Michelle Hudson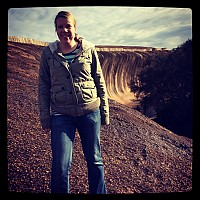 About Michelle:
I love hanging out and going to the beach and surfing even though I'm pretty bad at it. I have had a bucket list since 2005. I'm slowly crossing thing ...read more
Mission Statement:
One day your life will flash before your eyes. Make sure it's worth watching.
Bucket List Item Information
Dye my hair rainbow colour & leave it for a week
"Not sure I could bring myself to do this I may not want to leave my house without a beanie."

Completed on 07/01/2014
"Leaving my hair dyed for a week isn't really practical for me. I have too many commitments where I have to dress responsibly and not have rainbow hair. So I dyed it rainbow today with hair chalk because it washes out and it was cheaper than hair dye. I'm really happy with it and now I can add colour when I want. "

Add This To Your Bucket List
Photos
Rainbow Hair
added on 07/01/14 08:49 am
My hand after using the hair chalk
added on 07/01/14 08:48 am
Hair chalk
added on 07/01/14 08:47 am
Who Witnessed This Event/Item
Who Else Has This On Their Bucket List
Similiar Bucket List Ideas
Take someone's clothes away from a public shower, and leave them with only a funny costume to wear - (2) people
Go Vegetarian for: A Week - 04/18/14 (Steve Morris)
See a rainbow - (2) people
Workout 3-5 days/week - 09/13/11 (K M)
Read a new book every week for a year - 01/20/17 (Megan Nicole)
Go without Chocolate for: 1 Week - 03/29/14 (Steve Morris)
Make $1,000.00 by doing hair in one day - 05/09/11 (Jordan Bermingham)
Dye my hair pink - (3) people
Leave a 100% tip on a bill over $50 - (2) people
Go on a week long silent retreat - (2) people