Kham Inthammavong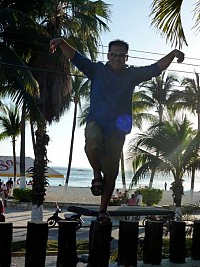 About Kham:
New look on life, more fun and less work.
Mission Statement:
Some way some how I want to be a part of making a positive difference in everyone's life.
Bucket List Item Information
Sit on a bench downtown for a few hours dressed in rags to see how people would treat me
"Always wanted to try this out."

Add This To Your Bucket List
Who Witnessed This Event/Item
Who Else Has This On Their Bucket List
Similiar Bucket List Ideas
Be the first ever Filipino woman to explore the outer space and discover a new galaxy where there is a planet where people can live - 05/29/10 (Angel Reyes)
Invent something that other people will use - (2) people
meet all the famous people you want to meet - 07/26/11 (Avalon Peterson)
Drive more then 20 hours away from my house - 12/01/10 (Geoffry Govertsen)
Darby O'Gill and the Little People - 04/13/14 (Lance Garbutt)
glue money to theground and watch people try and pick it up - 07/27/12 (samantha newcomb)
Give something up for 48 hours - 11/28/10 (Rina Iakopo)
Complete a large adventure race (longer than 8 hours) - 02/04/11 (Ryan Ezell)
Suzuka 8 Hours 2 - 11/07/14 (Lance Garbutt)
Get a group of ten people to go to the Galapagos and volunteer in September - 07/14/10 (jon jared)