Michelle Hudson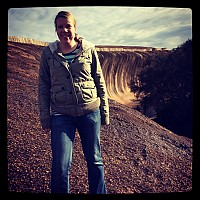 About Michelle:
I love hanging out and going to the beach and surfing even though I'm pretty bad at it. I have had a bucket list since 2005. I'm slowly crossing thing ...read more
Mission Statement:
One day your life will flash before your eyes. Make sure it's worth watching.
Bucket List Item Information
Learn to write with left hand
"I'm totally right handed but would love to be able to write both hands."

Completed on 05/04/2014
"I can do it not really well but good enough."

Add This To Your Bucket List
Who Witnessed This Event/Item
I can do that. I can also write with both hands simultaneously.
Who Else Has This On Their Bucket List
I like the idea of being able to do something well that's to ...more
Similiar Bucket List Ideas
write a letter with dipping ink and seal on parchment paper - 12/27/15 (Jaimee-Leigh Wignell)
Learn to love myself for who I am - 02/01/12 (Jade Johnson)
Perform a hand brake turn in a car - (2) people
learn to play cello - (2) people
✔Learn 2 words of Tagolog everyday for 2012 - 12/22/11 (j nadonza)
Learn Photography - 04/03/14 (Steve Morris)
Learn how to: Take Criticism - 02/22/14 (Steve Morris)
Learn German fluently - 10/30/14 (Chris H)
✔Write a will (to do) - 10/23/11 (Susan F)
Learn Woodworking - 04/03/14 (Steve Morris)