Michelle Hudson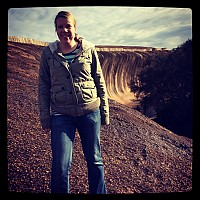 About Michelle:
I love hanging out and going to the beach and surfing even though I'm pretty bad at it. I have had a bucket list since 2005. I'm slowly crossing thing ...read more
Mission Statement:
One day your life will flash before your eyes. Make sure it's worth watching.
Bucket List Item Information
Use a whole roll of gaffa tape in one day
"This is going to be fun."

Completed on 12/20/2013
"Taped up some boxes, used it for wrapping Christmas presents and had fun taping up my brothers suitcase. He was not impressed but it was funny :-D"

Add This To Your Bucket List
Who Witnessed This Event/Item
Who Else Has This On Their Bucket List
Similiar Bucket List Ideas
Eat Every Flavour Pop Tart: Frosted Cinnamon Roll - 04/13/14 (Steve Morris)
✔Roll on ecstasy - 08/01/14 (Esther Joy)
Things to do before you're 11 3/4: Roll Down a really Big Hill - 02/21/14 (Steve Morris)
Rock 'n' Roll Seattle Marathon (Washington) - 07/29/14 (Lance Garbutt)
Visit the Rock n Roll hall of fame - 07/07/14 (Marsha Roberts)
Tour the Hall of Fames (Baseball/Football/Rock 'n Roll) - 06/04/10 (Erick Bieger)
Roll a joint for baby and baby rolls for me <3 - 03/19/12 (Montana peltzer)
Make a Wallet from Duct Tape - 02/20/14 (Steve Morris)
✔Make a Cardboard And Duct Tape boat and Race it Across a Pool - 07/13/11 (Siggy Calderon)
Rack + Roll - 11/01/14 (Lance Garbutt)