Michelle Hudson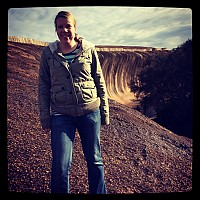 About Michelle:
I love hanging out and going to the beach and surfing even though I'm pretty bad at it. I have had a bucket list since 2005. I'm slowly crossing thing ...read more
Mission Statement:
One day your life will flash before your eyes. Make sure it's worth watching.
Bucket List Item Information
Make a peice of jewelry
"Just so when people ask where did you get that from I can say I made it."

Completed on 06/04/2011
"Made earrings it was hard work but they look good."

Add This To Your Bucket List
Who Witnessed This Event/Item
Who Else Has This On Their Bucket List
Similiar Bucket List Ideas
Make a Pizza Oven - 03/23/14 (Steve Morris)
Make 1 Thing from Instructibles.Com - 04/19/14 (Steve Morris)
Make the switch from vegetarian to vegan, once and for all - 08/20/10 (Shiloh Williams)
Make homemade sushi - 06/16/10 (Nichole Klebba)
Make a wish on a shooting star and have it come true (to do) - 08/19/11 (Susan F)
Learn to make California rolls - 05/30/11 (Heather Novak)
Make it to the Price is Right - 05/08/12 (Katie Saulsgiver)
Cement project 1 - make a bowl - 09/19/16 (Jaimee-Leigh Wignell)
Make a Fire Without Matches by a Magnifying Glass - 03/23/14 (Steve Morris)
Make a Handmade Greeting Card - (2) people