Michelle Hudson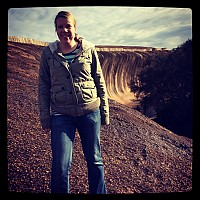 About Michelle:
I love hanging out and going to the beach and surfing even though I'm pretty bad at it. I have had a bucket list since 2005. I'm slowly crossing thing ...read more
Mission Statement:
One day your life will flash before your eyes. Make sure it's worth watching.
Bucket List Item Information
Take a photo of my hand with the cement hand I did as a kid
"When I was little my brothers and I put our names and hand prints in the cement of my dads new pump shed. I would like a picture to see how much my hand has grown. But it will require trespassing on someone elses property as we haven't lived there in over seven years. Not sure how to get this one."

Add This To Your Bucket List
Who Witnessed This Event/Item
Who Else Has This On Their Bucket List
Similiar Bucket List Ideas
Take a photo a day for at least a month - (6) people
Have a photo taken in each province/territory's capital - 01/30/12 (Kristi Gingrich)
Keep a photojournal (with photo caption) for a year - (3) people
Have a Photo with Granny - 11/05/15 (Lance Garbutt)
✔Put my photo on a bar wall next to the photos of celebrities - 11/09/10 (eRic Bekhard)
Bermagui Hand & Homemade Market - 09/22/15 (Lance Garbutt)
Take a photo of myself every day for x amount of time - 08/21/12 (Liz M)
write with my left hand - 06/12/12 (Grace Mel)
✔Learn how to - use hand tools - 07/09/14 (Marsha Roberts)
Have my photo taken with: A Gaint Panda - 02/15/14 (Steve Morris)