Misty Hawes-Owen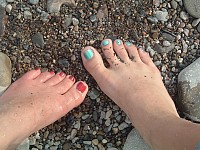 About Misty:
I am a small town Candadian girl with strong roots. I am a 30 something, soon-to-be-divorced, mom of two and writing down my bucket list is a part of ...read more
Mission Statement:
Following my heart. Shamelessly. And without apology to expectation, perceived or real, of friends, family and society. This is my resolve.
Bucket List Item Information
Go on a non "guilt trip" trip to Italy
"The first one was with my now ex-husband who left me a month later..."

Add This To Your Bucket List
Viewing details are set to Members Only
Who Witnessed This Event/Item
Who Else Has This On Their Bucket List
Similiar Bucket List Ideas
travel the Stelvio Pass in Italy - 01/08/12 (Elizabeth Allison)
go on a road trip to see the ghost towns of the U.S.A - (2) people
Visit Northern Italy - 03/14/14 (Steve Morris)
Road trip across the country with friends - (11) people
Go on at least one more overseas trip with my mom and dad - 05/20/12 (Annie H,)
Travel - Trip to Chicago with Carol - 08/10/11 (Carroll VerSteeg)
St. Mark's Basilica (Venice, Italy) - 04/27/16 (Susan F)
Take a trip to Bora Bora - (2) people
Visit Italy - (55) people
Go on a mission trip to a 3rd world country - (3) people