Kham Inthammavong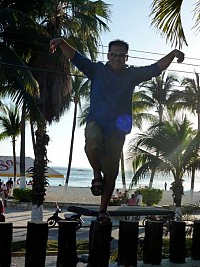 About Kham:
New look on life, more fun and less work.
Mission Statement:
Some way some how I want to be a part of making a positive difference in everyone's life.
Bucket List Item Information
Buy a lotto ticket with the numbers off a fortune cookie
"Always wanted to do this. Would be great if it works."

Completed on 03/18/2011
"Mega Millions!! Hope I win!"

Add This To Your Bucket List
Photos
The Fortune
added on 03/18/11 12:04 pm
Lucky Numbers
added on 03/18/11 12:03 pm
The Ticket
added on 03/18/11 12:03 pm
Who Witnessed This Event/Item
Who Else Has This On Their Bucket List
Similiar Bucket List Ideas
Visit a Fortune Teller - 02/28/14 (Steve Morris)
Go to the Airport and Buy a Ticket on the Next Plane Leaving - (2) people
drive over 101 mph and not get a ticket - 11/18/11 (Taylor <3 )
Call One of Those 'How Am I Driving' Numbers Just to Say the Driver is Doing Wonderfully - 01/28/14 (Steve Morris)
go to the airport and buy a ticket for the next flight out - (78) people
Be a contestant on Wheel of Fortune - (14) people
have my fortune told - (4) people
Play Wheel of Fortune - 09/21/14 (Lance Garbutt)
Go to the Airport and buy a ticket to somewhere random and spend a week there - 08/13/11 (Tyler Lesan)
win a HUGE lotto - (2) people