Kham Inthammavong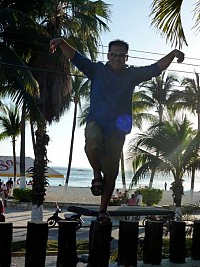 About Kham:
New look on life, more fun and less work.
Mission Statement:
Some way some how I want to be a part of making a positive difference in everyone's life.
Bucket List Item Information
Create a guitar video

Completed on 11/15/2010
"It sucks but oh well."

Add This To Your Bucket List
YouTube Video
Jamming with my daughter.
Who Witnessed This Event/Item

Tehee!!! It wasn't that bad. Lol!!! :P
Who Else Has This On Their Bucket List
Similiar Bucket List Ideas
Sing with my guitar in front of more than 100 people - 09/13/10 (Jon Roth)
✔Create a Piece of Art & Sell it - 11/16/13 (Lance Garbutt)
edit all my video footage - 08/24/11 (Megan T)
Create my own cocktail - (2) people
Post a video to YouTube - (2) people
REALLY Learn the Guitar - (2) people
Create your Family Tree - (4) people
create a sound track to my life - (2) people
Create a World Map With Pins of Where I've Been - 10/27/13 (Lance Garbutt)
Create a journal and write in it everyday for a whole year - 04/02/13 (Victoria Clarke)