Kham Inthammavong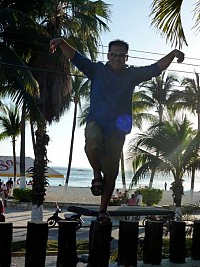 About Kham:
New look on life, more fun and less work.
Mission Statement:
Some way some how I want to be a part of making a positive difference in everyone's life.
Bucket List Item Information
Go to a 3D movie
"Have to do it once."

Completed on 11/09/2010
"Toy Story 3"

Add This To Your Bucket List
Who Witnessed This Event/Item
Who Else Has This On Their Bucket List
Similiar Bucket List Ideas
✔Stich: The Movie - 07/07/15 (Lance Garbutt)
Lawless Movie - 06/19/14 (David Teasdell)
Make out in a movie theater - (2) people
Visit the set of a movie - 02/13/15 (Kelsey Dunbar)
Go to the MTV Movie Awards - (2) people
✔Watch A Black And White Movie - 04/27/14 (Lance Garbutt)
✔Teen Beach Movie - 05/31/14 (Lance Garbutt)
attend a movie award ceromeny - 02/23/11 (mitch mort)
Attend a red carpet movie premier - (2) people
✔Create a YouTube Movie - 01/30/14 (Steve Morris)