Michelle Hudson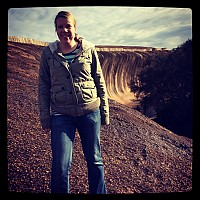 About Michelle:
I love hanging out and going to the beach and surfing even though I'm pretty bad at it. I have had a bucket list since 2005. I'm slowly crossing thing ...read more
Mission Statement:
One day your life will flash before your eyes. Make sure it's worth watching.
Bucket List Item Information
Complete 101 bucket list items
"This is 101 and I'll complete this one when everything else is done."

Completed on 07/07/2014
"I have now completed 101 bucket list items. I have added a lot more since putting this on here but I was determined to cross this off as number 101 because it was number 101 originally."

Add This To Your Bucket List
Who Witnessed This Event/Item
Who Else Has This On Their Bucket List
Similiar Bucket List Ideas
Find someone who, in the event of my untimely death, will take it upon themselves to complete this Bucket list for me - (10) people
Have enough money to do all the things on this list - 09/19/10 (Jessica Mallow)
Complete the Ninja Warrior mock course in Muscle Park, Japan - 04/04/11 (Kristopher Barsanti)
Complete the 100 Mile Leadville Race Across the Sky - 11/10/10 (Charles Shurlow)
Read the Complete Works of: Mark Twain - 04/06/14 (Steve Morris)
Complete Power 90 - 01/03/11 (Dream Big!)
Read the complete works of Dickens - (2) people
✔Complete Pat's Run in Tempe, AZ - 01/11/11 (Lorraine Maloney)
Create your own bucket list website - 06/07/10 (Chris Bowler)
Complete A Spartan Sprint Race - 05/04/14 (Lance Garbutt)