Michelle Hudson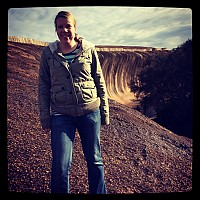 About Michelle:
I love hanging out and going to the beach and surfing even though I'm pretty bad at it. I have had a bucket list since 2005. I'm slowly crossing thing ...read more
Mission Statement:
One day your life will flash before your eyes. Make sure it's worth watching.
Bucket List Item Information
Participate in Talk Like A Pirate Day
"19th of september talk, dress and party like a pirate on International Talk Like A Pirate Day."

Completed on 09/19/2015
"Aaarrr where's the rum! I had lots of fun dressing up and doing this day."

Add This To Your Bucket List
Who Witnessed This Event/Item
Who Else Has This On Their Bucket List
My college professors would really get a shock...
Similiar Bucket List Ideas
Participate in an adult Easter Egg Hunt - 08/02/14 (Esther Joy)
Participate in Bike and Build - 01/30/11 (Mackenzie Kreller)
Participate in Carnival (Rio de Janeiro, Brazil) - 07/10/11 (Susan F)
dont talk for a week - 07/27/11 (Avalon Peterson)
Participate in a food fight - (3) people
Don't talk for 24 hours straight (to do) - 08/19/11 (Susan F)
Participate in Burning Man - 08/03/11 (Steven De Potter)
Participate in OperationBeautiful.com by leaving 1 post-it a day for a month - 07/17/12 (Tami K.)
Participate in missionary work - 03/20/13 (Chauntel McKeeth)
Participate in a tough mudder - 04/23/12 (Melissa Stoltz)