K M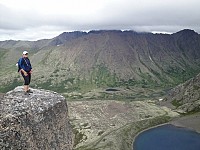 About K:
I am a 24 year old in graduate school at Washington University in St Louis studying physical therapy! I graduate in May and can't wait to be done wit ...read more
Mission Statement:
One day your life will flash before your eyes. Make sure it's worth watching.
Bucket List Item Information
Go to Alaska

Completed on 07/08/2010
"I spent 2 1/2 months in Alaska and loved every minute of it! "

Add This To Your Bucket List
Story And Details
I worked as a intern for Physical Therapy and Rebound Sports and Ortho PT in Anchorage! What an amazing trip!
Who Witnessed This Event/Item
Who Else Has This On Their Bucket List
Similiar Bucket List Ideas
I want to go skydiving in alaska - 02/14/13 (Sally Barker)
Wrangell-St. Elias National Park (Copper Center, Alaska) - 11/12/14 (Susan F)
Eat a Baked Alaskan in Alaska (Alaska) - 07/11/11 (Susan F)
Visit Alaska in the 30 days of night - 07/08/14 (Marsha Roberts)
Seward, Alaska - Deep Sea Fishing Experience - (2) people
Take a cruise to Alaska - 06/17/10 (LaVonne Miller)
Go camping for over a month and visit every state (besides Hawaii and Alaska) - 07/16/12 (Zoe Grimm)
Glacier Bay Basin (Alaska) - 01/14/16 (Susan F)
Fly With Alaska Airlines - (2) people
Kenai Fjords National Park (Seward, Alaska) - 11/12/14 (Susan F)