K M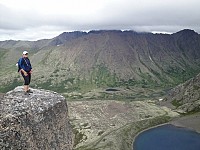 About K:
I am a 24 year old in graduate school at Washington University in St Louis studying physical therapy! I graduate in May and can't wait to be done wit ...read more
Mission Statement:
One day your life will flash before your eyes. Make sure it's worth watching.
Bucket List Item Information
Run entire 16 mile race in Alaska

Completed on 08/21/2010
"I was able to complete this race, but I did not run the entire thing. I ran ~3/4 of the race. It was an awesome race with a beautiful view!"

Add This To Your Bucket List
Who Witnessed This Event/Item
Who Else Has This On Their Bucket List
Similiar Bucket List Ideas
Run 20 Mile without Stopping - 02/19/14 (Steve Morris)
Drag race - (3) people
Be on the Amazing Race - 10/13/10 (Robert Beamon)
Participate in the Great Tennessee valley rubber duck race - 08/04/12 (Johnny Gonzales)
Travel to Alaska - 04/02/11 (Candice Olszewski)
Run a mile in under 7 minutes - (2) people
Run a mile is less than 8 minutes - 04/02/11 (Candice Olszewski)
Write a blog once a week for an entire year - (2) people
Take a cruise to Alaska - 06/17/10 (LaVonne Miller)
Take A Ride On The Alaska's Railway - (2) people