K M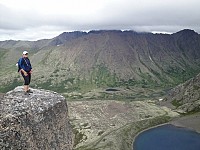 About K:
I am a 24 year old in graduate school at Washington University in St Louis studying physical therapy! I graduate in May and can't wait to be done wit ...read more
Mission Statement:
One day your life will flash before your eyes. Make sure it's worth watching.
Bucket List Item Information
Seven Natural Wonders of The World: Grand Canyon

Completed on 07/22/2009
"Gorgeous!"

Add This To Your Bucket List
Story And Details
Not sure of the exact date, but visited the Grand Canyon on a two week roadtrip with my mom. We drove out to California for my friend Brittany's wedding, passing through Oregon and driving down the west coast. After the wedding we continued on to Las Vegas and to the Grand Canyon before heading back home!
Who Witnessed This Event/Item
Who Else Has This On Their Bucket List
Similiar Bucket List Ideas
Le Grand Eleohant (Nantes, France) - 11/21/17 (Susan F)
✔Tour as much of Canyon de Chellly as allowed - 10/12/10 (Julie Michler)
Attend La Tomatina, The World's Largest Food Fight - (2) people
Visit ALL Hard Rock Cafés in the World - (2) people
Conquer the world or at least my house - 07/28/10 (Connie Phothisan)
World Cup 2014 in Brazil - 07/19/10 (Scott Johnson)
Stay the night in the Cinderella Castle Suite in Disney World - 04/20/11 (Kayla Spann)
Wizardly World of Harry Potter (Orlando, Florida) - 11/14/14 (Susan F)
See the Monaco Grand Prix - 11/25/13 (David Teasdell)
✔Experience a World Cup match - 10/27/10 (Aadiilah Sophiia)