K M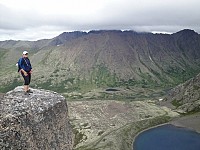 About K:
I am a 24 year old in graduate school at Washington University in St Louis studying physical therapy! I graduate in May and can't wait to be done wit ...read more
Mission Statement:
One day your life will flash before your eyes. Make sure it's worth watching.
Bucket List Item Information
Seven Natural Wonders of the World: Aurora Borealis

Completed on 09/17/2010
"A very faint showing. Really can't wait to see them again, hopefully a real showing the next time."

Add This To Your Bucket List
Story And Details
On one of my last nights in Anchorage my friend Jackie let me know that you could see the northern lights, ever so faintly from the Glen Alps parking log, so I drove up there at 11:30 to hae a look. They were very faint, and you could just see a little flickering and dancing of light!
Who Witnessed This Event/Item
Who Else Has This On Their Bucket List
Similiar Bucket List Ideas
Partake in the world's biggest waterfight during Songkran, Thailand - 01/30/11 (Kari Garcia)
Visit the Seven Wonders of the Ancient World: Temple of Artemis at Ephesus - 04/04/14 (Steve Morris)
Attend World Cup - 03/15/12 (Kaleigh Brooke)
Mountain Bike to the "Top of the World" in Utah - 01/25/11 (Mackenzie Kreller)
Help Out With A Natural Disaster - 07/01/10 (K Johnson)
117. Ride the 10 biggest roller coasters in the world - (2) people
Visit the world's largest something - 01/05/15 (Alisha Ellis)
✔Go around the world for the 3rd time - 11/08/11 (Elle Leontiev)
See 10 National (or world) land marks - 02/22/15 (o f)
visit chocolate world - 02/07/15 (j nadonza)