Ashley Holden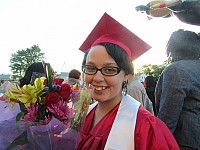 About Ashley:
Hi! I'm Ashley, 20 y.o. Married to my amazing infantryman and expecting our daughter summer 2015.
Mission Statement:
YOLO! You only live once: do what you want, what you love, and what you have the ability to do. Take advantage of the capabilities that you have. Don' ...read more
Bucket List Item Information
Donate blood
"5th time's the charm?"

Add This To Your Bucket List
Viewing details are set to Members Only
Who Witnessed This Event/Item
Who Else Has This On Their Bucket List
Similiar Bucket List Ideas
Dress as if I'm homeless, beg for money on the side of the road and then donate the money to a charity for the homeless - 07/11/12 (Chowder Col)
Donate $5000 to a Worthy Cause - 11/07/10 (Annaleisa Delacour)
Donate something I really love to someone who really needs it - (2) people
donate to the mosque after receiving my first salary - 04/25/12 (Nazreen Hassan)
Donate ponytail to Pantene Beautiful Lengths program - 06/21/11 (Donmarie Barradas)
Donate money for breast cancer - 06/03/12 (Rebecca Orbegoso)
✔#17 Donate blood - 10/17/12 (Lisa Pantling)
Donate 10 feet of hair to Locks of Love - 04/02/11 (Candice Olszewski)
Donate two months' salary to a charity - 11/07/10 (Steven Barrlott)