Kham Inthammavong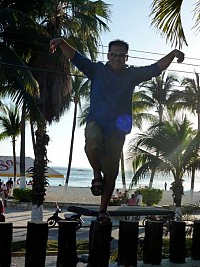 About Kham:
New look on life, more fun and less work.
Mission Statement:
Some way some how I want to be a part of making a positive difference in everyone's life.
Bucket List Item Information
Get a professional massage done
"Need one real bad."

Completed on 07/26/2012
"Felt great, may have to do it again."

Add This To Your Bucket List
Who Witnessed This Event/Item
Who Else Has This On Their Bucket List
Similiar Bucket List Ideas
Experience A Myofascial Release Massage - 10/02/16 (Lance Garbutt)
Make Home Made Erotic Massage Blend - 09/29/16 (Lance Garbutt)
Go to a Professional Psychic - (2) people
Professional photo shoot - 09/01/12 (Caroline Olmstead)
Get my massage license - 05/09/11 (Jordan Bermingham)
Get a massage for an hour and a half - (2) people
Get a couples massage done at a spa - (2) people
✔Sports Therapy Massage - 08/14/15 (Lance Garbutt)
Get a professional massage done once a month for a year - 12/22/13 (Megan Nicole)
Get a couples massage - (2) people