Kham Inthammavong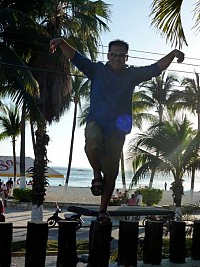 About Kham:
New look on life, more fun and less work.
Mission Statement:
Some way some how I want to be a part of making a positive difference in everyone's life.
Bucket List Item Information
Find my long time buddy Jamie that I haven't seen since 4th grade

Completed on 07/26/2008
"Funny story, the 20+ year reunion was at my wedding."

Add This To Your Bucket List
Who Witnessed This Event/Item
Who Else Has This On Their Bucket List
Similiar Bucket List Ideas
Let go of 40 balloons at the same time - 04/02/13 (Victoria Clarke)
Find Geocache(s): Find 1 Geocache - 05/12/13 (Steve Morris)
Spend Time Volunteering in Africa - 06/01/12 (Jessica Call)
189. Buy Make Most of Your Time on Earth - 06/29/11 (Jirrine Breedijk)
1 Time only - Drive an 18 wheeler - 08/10/11 (Carroll VerSteeg)
Find an Eagles Feather - 02/01/14 (Steve Morris)
Find Geocache(s): Find 50 Geocaches - (2) people
Find a fossil - (3) people
Find all 365 occurrences of the phrase "Do not be afraid" in the Bible - 01/24/13 (Amber Donaldson)
I want to find eternal happiness and to learn to not just settle! Just Sayin' - 05/30/10 (Jamie-Jo Nava)