Kaylee Meek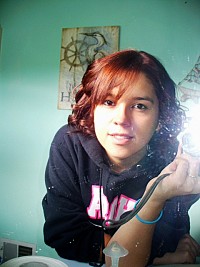 About Kaylee:
I plan to do everything on my Bucket List before I kick the bucket...
Mission Statement:
Never let someone or something get in the way of what you want; it's yours for the taking so take it and enjoy it.
Bucket List Item Information
Visit a different country
"I've been to 15 states but never a different country. When my mom and brothers went to Canada, I was in Alabama."

Add This To Your Bucket List
Who Witnessed This Event/Item
Who Else Has This On Their Bucket List
Similiar Bucket List Ideas
Visit a Rodeo and See a Bull Ride - 03/01/14 (Steve Morris)
Visit the Hall of Mirrors in Versaillies - 03/16/14 (Steve Morris)
Visit The Parthenon in Greece - (2) people
198. Visit the Twin Towers Memorial - 03/14/11 (Emma McD)
Visit Wulingyuan Rocky Peaks - 03/23/14 (Steve Morris)
Visit the seven wonders of the modern and ancient world - 07/15/10 (Jeremiah Stahn)
Visit British Museum in London - 03/09/14 (Steve Morris)
Visit a Grand Prix - 02/28/14 (Steve Morris)
✔Visit Skirball Cultural Center - 10/02/10 (j nadonza)
Visit Sistine Chapel/Vatican - (2) people