Kaylee Meek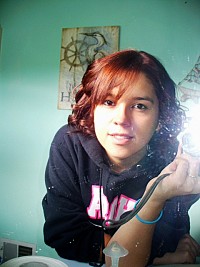 About Kaylee:
I plan to do everything on my Bucket List before I kick the bucket...
Mission Statement:
Never let someone or something get in the way of what you want; it's yours for the taking so take it and enjoy it.
Bucket List Item Information
Attend a professional game of one of each major sport
"Football, baseball, soccer, hockey. Those are the ones I wish to attend. So far, it's just Baseball I've attended. Go Tigers!"

Add This To Your Bucket List
Who Witnessed This Event/Item
Who Else Has This On Their Bucket List
Similiar Bucket List Ideas
Attend a Jason Mraz concert - 03/20/11 (Kasper Kay)
Sit courtside at a Miami Heat game - (2) people
✔See a Yankee game at Yankee stadium  - 09/20/11 (Angelo Rivera)
Watch A Rugby Game - Blues - 09/06/14 (Lance Garbutt)
264. Attend a Japanesse Tea Ceremony - 03/16/11 (Emma McD)
do atleast one more professional modeling photoshoot - 10/24/10 (Katelyn Scherbarth)
toledo mud hens game - 08/21/15 (Pete R)
Attend a live studio audience at a television show - 08/02/10 (Nicole Rawn Brewer)
Sport Fishing - 07/21/14 (Lance Garbutt)
Attend A Collage or Univserity - 11/22/11 (Alexis Thompson)