Kaylee Meek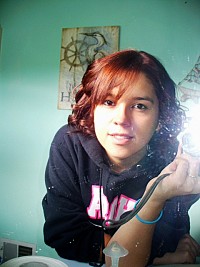 About Kaylee:
I plan to do everything on my Bucket List before I kick the bucket...
Mission Statement:
Never let someone or something get in the way of what you want; it's yours for the taking so take it and enjoy it.
Bucket List Item Information
Take a photo every day for a year
"Now this is something I would enjoy. Can't wait to see how it turns out!"

Add This To Your Bucket List
Who Witnessed This Event/Item
Who Else Has This On Their Bucket List
Similiar Bucket List Ideas
give homemade Christmas gifts this year - 08/24/11 (Megan T)
Get a photo in a photo booth - (2) people
Have a Photo with Elmur Fudd - 11/05/15 (Lance Garbutt)
Stick to my New Year's resolution - 07/10/12 (Marissa Schroeder)
Have my photo taken with: A Cheetah - 02/14/14 (Steve Morris)
Make a scrap book for the year - (2) people
Write in a journal everyday for a year - 08/14/11 (Jessica wallis)
have a relationship successfully last at least a year - 03/24/12 (maryanne dubreuil)
Ring in the new year in a different country - (2) people
Have my photo taken with: A Gaint Panda - 02/15/14 (Steve Morris)