Kaylee Meek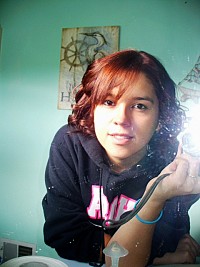 About Kaylee:
I plan to do everything on my Bucket List before I kick the bucket...
Mission Statement:
Never let someone or something get in the way of what you want; it's yours for the taking so take it and enjoy it.
Bucket List Item Information
Learn to play Guitar
"I have a guitar. I can play a total of three songs. I just need to learn a little more"

Add This To Your Bucket List
Who Witnessed This Event/Item
Who Else Has This On Their Bucket List
Similiar Bucket List Ideas
Learn how to service a car - 01/02/11 (Nina Simone)
30) SEE A BROADWAY PLAY (MARY POPPINS, BEAUTY AND THE BEAST, WICKED) - 01/20/12 (Marisa M)
Learn to make pretty cakes - 02/10/12 (Katy B.)
Learn to play squash - 09/13/11 (Molly Phillips)
Learn how to - juggle - 07/09/14 (Marsha Roberts)
learn basic car repairs - 07/27/12 (samantha newcomb)
✔Play Dominoes - 09/20/14 (Lance Garbutt)
Learn how to do Raku pottery - 07/13/10 (Jodi Gillians)
Learn to play the Harmonica… - 10/27/10 (Aadiilah Sophiia)
Play a really good game of Spin The Bottle - 12/22/11 (Lyz Betz)