Kham Inthammavong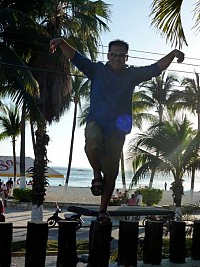 About Kham:
New look on life, more fun and less work.
Mission Statement:
Some way some how I want to be a part of making a positive difference in everyone's life.
Bucket List Item Information
Eat at an African Restaurant

Completed on 06/02/2011
"Lamb, Beef, Chicken, Noodles and Rice, Yummy!!!"

Add This To Your Bucket List
Photos
My Lunch Dish
added on 06/02/11 12:09 pm
Safari Restaurant
added on 06/02/11 12:08 pm
Who Witnessed This Event/Item
Who Else Has This On Their Bucket List
Similiar Bucket List Ideas
Do an African Safari - 01/05/12 (Jon Haworth)
Eat At Attica Restaurant, Melbourne - 08/03/14 (Lance Garbutt)
See the african animals:Rhinocerous - 08/10/10 (Nicholas Todd)
Eat at a Michelin Star Restaurant - 08/20/11 (Tracey Sellars)
Eat at a Wolfgang Punk restaurant - 12/27/15 (Susan F)
Go on a African safari - (5) people
treat my family especially my papa in his favorite restaurant in palm plaza hotel... :D - 02/20/11 (Rhayezelle De Guzman)
Eat at the Undersea Restaurant in Ithaa - 03/22/12 (Darran Brett)
Have Dinner at a prestige restaurant - 08/11/10 (Nicholas Todd)
Eat at a 5 star restaurant - (5) people