Kham Inthammavong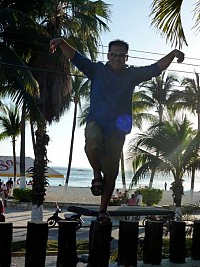 About Kham:
New look on life, more fun and less work.
Mission Statement:
Some way some how I want to be a part of making a positive difference in everyone's life.
Bucket List Item Information
See a Major League Baseball Game

Completed on 08/20/2008
"Went to see the Detroit Tigers versus the Texas Rangers with the wife. Had a good time."

Add This To Your Bucket List
Story And Details
We sat for about 6 innings, then just ended up walking around the stadium.

I tried one of those pitching machines and thought I could still throw it 80 MPH, but barely getting 60 MPH.

Good time though.
Who Witnessed This Event/Item
Who Else Has This On Their Bucket List
Similiar Bucket List Ideas
Watch A Soccer Game - Central Coast Mariners FC - 09/06/14 (Lance Garbutt)
Visit all 4 Major Cities in the United States - 11/03/12 (Lyndsay Licata)
go to a Yankee's game - 06/29/10 (222222 555555555)
Trivial Pursuit - arcade game - 11/08/14 (Lance Garbutt)
Go to an NFL Game (to do) - (2) people
Beat a Video Game - (3) people
See a baseball game at the Reds stadium - 01/20/17 (Megan Nicole)
✔collect 1962 mets baseball cards - 08/23/15 (Pete R)
Throw out the first pitch at a Major League Baseball game - 08/30/11 (Michaela Mandujano)
The Imitation Game 2014 - 01/05/15 (David Teasdell)