Misty Hawes-Owen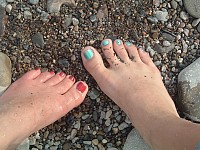 About Misty:
I am a small town Candadian girl with strong roots. I am a 30 something, soon-to-be-divorced, mom of two and writing down my bucket list is a part of ...read more
Mission Statement:
Following my heart. Shamelessly. And without apology to expectation, perceived or real, of friends, family and society. This is my resolve.
Bucket List Item Information
Complete the Emperor's Challenge
"Aug 6, 2011"

Completed on 08/07/2011
"20 mountain kilometers completed in 2 hours, 51 minutes and 17 seconds. Yay!"

Add This To Your Bucket List
Viewing details are set to Members Only
Who Witnessed This Event/Item
Who Else Has This On Their Bucket List
Similiar Bucket List Ideas
Complete the Edinburgh Ale Trail - (2) people
Complete a 1000-piece puzzle - 01/04/15 (Alisha Ellis)
Spend 3 days in complete silence - (2) people
✔Complete Olive's 2014 Summer Bucket List - 06/20/14 (Susan F)
Complete the Ironman Triathlon - 10/14/13 (Lance Garbutt)
✔Find someone who will complete this bucket list in the event of my untimely death - 12/13/11 (Susan F)
Complete a Centurion - 09/14/10 (C M)
✔Complete a Duke of Edinburgh Award - 09/14/10 (Becky Lawrence)
Complete A Fun Run - (2) people
read the complete works of shakesphere - 07/27/12 (samantha newcomb)