Misty Hawes-Owen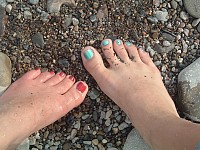 About Misty:
I am a small town Candadian girl with strong roots. I am a 30 something, soon-to-be-divorced, mom of two and writing down my bucket list is a part of ...read more
Mission Statement:
Following my heart. Shamelessly. And without apology to expectation, perceived or real, of friends, family and society. This is my resolve.
Bucket List Item Information
Go river tubing on a hot day
"used to tube the Shuswap. would love to do it again"

Completed on 08/24/2012
"Tubed the Beaton out of Fort St. John. A beautiful day, with some great friends."

Add This To Your Bucket List
Viewing details are set to Members Only
Who Witnessed This Event/Item
Who Else Has This On Their Bucket List
Similiar Bucket List Ideas
Take a Boat Trip on a Famous River - 03/31/14 (Steve Morris)
Danube River - 07/08/14 (Marsha Roberts)
River Tours Nepean & Warragamba Gorges - 04/02/13 (Lance Garbutt)
Steamboat down the Mississippi River - 06/03/12 (Rebecca Orbegoso)
Visit a famous river, sea, or ocean - 05/16/11 (Tiffany Williams)
take a vacation on the Mississippi River on a steamboat - 06/29/10 (222222 555555555)
Stones River National Battlefield (Murfreesboro, Tennessee) - 06/11/14 (Susan F)
River Canoe the Meakong vietnam - 03/13/11 (Elle Leontiev)
Puerto Princesa Subterranean River, Palawan, Philippines - 02/16/14 (Lance Garbutt)
snorkel in the mary river and see the lungfish - 10/04/18 (Katrina Marchant)