Kham Inthammavong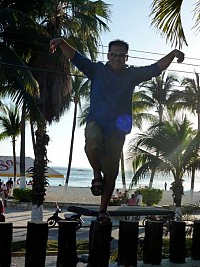 About Kham:
New look on life, more fun and less work.
Mission Statement:
Some way some how I want to be a part of making a positive difference in everyone's life.
Bucket List Item Information
Learn how to play the guitar
"Been trying to do this forever, just never had the time."

Completed on 10/15/2010
"Still could use some progress, but atleast I can say I know what I'm doing"

Add This To Your Bucket List
Story And Details
Here is my song list so far.

100 Years - Five For Fighting
3 AM - Matchbox 20
All Of Me - John Legend
Apologize - One Republic
Back Here - BB Mak
Billionaire - Travis McCoy
Break Even - The Script
Brown Eyed Girl - Jimmy Buffet
Cheerleader - OMI
Come On Get Higher - Matt Nathanson
Dance With My Father - Luther Vandross
Daylight - Maroon 5
Demons - Imagine Dragons
Don't Stop Believing - Journey
Drops Of Jupiter - Train
Dynamite - Taio Cruz
Ever The Same - Rob Thomas
Every Rose Has Its Thorn - Poison
Everything I Do - Bryan Adams
For The First Time - The Script
Hall Of Fame - The Script
Heaven - Bryan Adams
Heaven - Warrant
Hero - Enrique Iglesias
Hold On We're Going Home - Drake
Hotel California - The Eagles
Just The Way You Are - Bruno Mars
If Your Gone - Matchbox 20
I See Clearly Now - Johnny Nash
I'm Yours - Jason Mraz
I Remember You - Skid Row
I Still Haven't Found - U2
Last Kiss - Pearl Jam
Lazy Song - Bruno Mars
Let Her Go - Passenger
Livin On A Prayer - Bon Jovi
Man That Can't Be Moved - The Script
Love Somebody - Maroon 5
Man In The Mirror - Michael Jackson
Marry Me - Train
Moves Like Jagger - Maroon 5
Need You Now - Lady Antebellum
Nothing - The Script
Not Over You - Gavin Degraw
One - U2
Open Arms - Journey
Over The Rainbow (Hawaii Style)
Patience - Guns N Roses
Payphone - Maroon 5
Pumped Up Kicks - Foster The People
Push - Matchbox 20
Rude - Majic
She Will Be Loved - Maroon 5
Shut Up And Dance - Walk The Moon
Stand By Me - Ben E. King
Stereo Hearts - Gym Class Heroes
Still The One - Shania Twain
Summer of 69 - Bryan Adams
Superman - Five For Fighting
Sweet Child O Mine - Guns N Roses
Thank You - Dido
The A Team - Ed Sheeran
The Scientist - Coldplay
Thinking Out Loud - Ed Sheeran
This I Promise You - NSYNC
Too Close - Alex Clare
Use Somebody - Kings Of Leon
Wake Me Up - Avici
Wanted Dead Or Alive - Bon Jovi
Water Runs Dry - Boys 2 Men
What Makes You Beautiful - One Direction
With Or Without You - U2
Without You - David Guetta
You And Me - Lifehouse

Photos
added on 03/12/11 08:24 am
Our two man band
added on 03/12/11 08:23 am
Who Witnessed This Event/Item
Who Else Has This On Their Bucket List
Similiar Bucket List Ideas
learn how to sail a boat - 08/02/10 (phil guerreiro)
Play real Quidditch - 06/14/11 (Ashley D.)
Learn how to ice skate - (3) people
Play Agricola - 09/18/14 (Lance Garbutt)
Learn a fighting style - 11/13/12 (Nicole Berrios)
Play a clean game of Truth or Dare - 06/09/12 (Katie Cramatte)
Learn the Countries and Capitals - 04/03/14 (Steve Morris)
Learn how to read palms, tea leaves, astrology, and tarot cards - 06/13/11 (Amethyst James)
Learn how to fly a small plane - 01/18/11 (areli villegas)
Learn how to tie a cherry stem with my tongue - 11/28/10 (Jess ica)