Geoffry Govertsen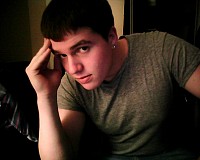 About Geoffry:
I love sports and being active whilst chilling with friends and being lazy. Music and movies are my weak point. Put down any type of animal in front o ...read more
Mission Statement:
To get some organized fun in my life :)
Bucket List Item Information
Kiss someone while listening to Teenage Dream by Katy Perry
"Its a weird dream/desire of mine..."

Completed on 01/15/2011
"Ok so maybe the kiss was a little weird and extremely intense, but I loved it :]"

Add This To Your Bucket List
Story And Details
**PARENTAL DISCRETION ADVISED**

I got to Rocks - hot guy there - I was about to make a move when REALLY hot guy walks in - (Mr. Schoester from Glee hair mohawk, brown eyes, cut jaw, my height, ripped, HOT) - He introduced himself as Tyler - We danced - Teenage Dream came on and we kissed (FINALLY) - he offered to bring me to his friends house for the night - "YES." - we left the club 230 - (he's 18 and knows i'm 17) - i drove him and friend to her house - (huge! 3 floors and mansion) - we RIPPED each others clothes off in like 2 seconds - started having sex, and he broke condom, got a new on - (It was literally the loudest sex possible, he was so fucking big -_-) - he finished in like 20 minutes, lol. - we cuddled and talked and got horny...
THEN we did it again - a new condommm - this time for like 2 hours - even louder then beforeeeeeee - he made me (ew words) come just by doing me, no jerkin required, lmfao. Best. experience. ever.
Then we cuddled more and agreed that we liked each other blah blah he gave me head for 10 minutes (GOOOOOOOOOOOOODDD)
We talked more and decided that we have so much in common we should just date, and agreed to go out next weekend (TO AIR) lol
We went to sleep and he drove me home around 10. I still don't know where I was.........
Who Witnessed This Event/Item
Who Else Has This On Their Bucket List
Similiar Bucket List Ideas
Kiss mandy under a waterfall :) - 05/02/11 (Paul OSullivan)
Design and Build my Dream Home - (2) people
Write a Dream Log for at a Month - 04/01/14 (Steve Morris)
Street Hoop / Street Slam / Dunk Dream - 11/06/14 (Lance Garbutt)
Kiss of the Dragon (2001) - 05/03/11 (Movie List :))
Kiss under mistletoe (to do) - (2) people
Kiss a stranger, make it a good kiss - 06/10/13 (Breah Tomlinson)
kiss underwater - (5) people
build my own dream house - 10/10/10 (morgan mayfield)
Have My Dream Wardrobe - 06/01/12 (Jessica Call)