Kham Inthammavong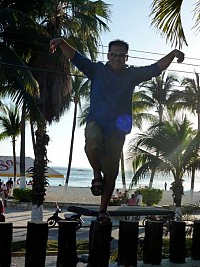 About Kham:
New look on life, more fun and less work.
Mission Statement:
Some way some how I want to be a part of making a positive difference in everyone's life.
Bucket List Item Information
See a Luau
"Just one of those things you have to see."

Completed on 07/31/2008
"Pretty sweet."

Add This To Your Bucket List
Who Witnessed This Event/Item
Who Else Has This On Their Bucket List
Similiar Bucket List Ideas
Attend a Hawaiian Luau - (3) people
Go to a luau in Hawaii - (2) people
Attend a Hawaiian Luau in Hawaii - (2) people
Participate in a luau - (5) people
Attend a Hawaiian style luau - 08/12/12 (Johnny Gonzales)
✔Attend a Tahitian Luau - 10/20/14 (Corinne ~)
✔Have a Hawaiian Luau Birthday Party - 05/20/12 (Corinne ~)
✔Go to a luau themed party - 08/02/14 (Esther Joy)
Attend a luau in Hawaii - 07/08/14 (Marsha Roberts)
Attend a luau - 09/07/10 (Irene Irene)