K M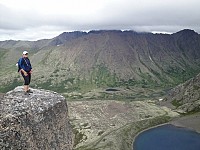 About K:
I am a 24 year old in graduate school at Washington University in St Louis studying physical therapy! I graduate in May and can't wait to be done wit ...read more
Mission Statement:
One day your life will flash before your eyes. Make sure it's worth watching.
Bucket List Item Information
Knit or Crochet something
"Preferably a blanket...that I would actually use!"

Add This To Your Bucket List
Who Witnessed This Event/Item
Who Else Has This On Their Bucket List

a scarf and it wasn't done well...ugh.
Similiar Bucket List Ideas
Knit a Jumper - (2) people
crochet a bunch of hats/gloves for homeless - 06/06/18 (Kara Willis)
Crochet a scarf - 08/04/11 (Janie Niekamp)
Knit 10 hats from Hattitude - 01/04/11 (Mandy Koontz)
Knit a Pair of Socks - 02/20/14 (Steve Morris)
Meadow teaches Haukur to knit - 12/18/14 (Meadow and Haukur)
76) CROCHET AN AFGHAN - 01/21/12 (Marisa M)
Learn how to - crochet - 07/09/14 (Marsha Roberts)
learn to crochet a scarf - (2) people
Knit a sweater - 06/14/10 (Jennifer Cochrane)