Kham Inthammavong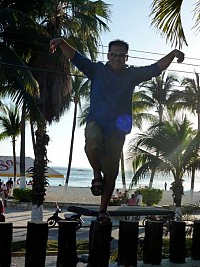 About Kham:
New look on life, more fun and less work.
Mission Statement:
Some way some how I want to be a part of making a positive difference in everyone's life.
Bucket List Item Information
Walk on the Navy Pier in Chicago
"Looks really cool."

Completed on 06/01/2010
"It was ok."

Add This To Your Bucket List
Who Witnessed This Event/Item
Who Else Has This On Their Bucket List
Similiar Bucket List Ideas
Walk Along A Abandoned Train Line - 11/07/13 (Lance Garbutt)
24) GET INVOLVED IN CHARITIES FOR BREAST CANCER, THE MARCH OF DIMES, AND THE WALK FOR DIABETES - 01/20/12 (Marisa M)
Eat a Chicago Dog in Chicago (Chicago, Illinois) - (2) people
Walk Through Central Park - (2) people
I want to walk the streets of gold - 12/18/11 (quintin mccarty)
✔walk every day for a month - 01/18/12 (Kara Willis)
Sit in the mall with my uke making up songs about the people that walk by - 03/28/11 (Autie Barnes)
✔walk up the 246 steps william wallace monunent scotland - 06/04/13 (Lance Garbutt)
Walk from Bristol to London - 07/21/11 (Ian Clark)
Walk barefoot through the snow - 08/28/10 (Amanda Foster)