K M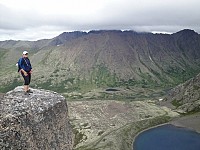 About K:
I am a 24 year old in graduate school at Washington University in St Louis studying physical therapy! I graduate in May and can't wait to be done wit ...read more
Mission Statement:
One day your life will flash before your eyes. Make sure it's worth watching.
Bucket List Item Information
Fly in a small plane

Completed on 08/14/2010
"Have flown in 2 float planes, one on 8/14/10 and one on 9/18/10"

Add This To Your Bucket List
Story And Details
On 8/14/10 flew out of Anchorage with Elison Air to Redoubt Bay area to go bear watching. On 9/18/10 flew with pilot Mike Clark out of anchorage with Jackie to Eklutna Lake and back on our last day in Anchorage!
Who Witnessed This Event/Item
Who Else Has This On Their Bucket List
Similiar Bucket List Ideas
The seven colored earth is the most visited tourist spot of Mauritius... Situated in the small village of Chamarel - 05/27/13 (Lance Garbutt)
Pack a small bag, go to airport, buy a ticket for next flight out - (6) people
Own a small sail boat - 09/07/10 (Katie Mitchell)
✔Ride in an old plane - 07/30/11 (Elvis Rye)
Travel on a plane - 06/22/11 (Elizabeth Mulligan)
open a small business - 03/12/12 (nicki morrison)
Own a private island, or rent a beach house on a small isolated island for over a month - 09/14/10 (Asia Fuoco)
Fly in a plane - (8) people
Ride in a plane - 01/03/11 (Stephanie Brennan)
Live in a small house on the ocean - 08/13/10 (Kate Torres)