K M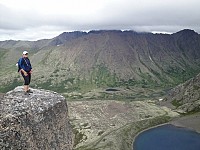 About K:
I am a 24 year old in graduate school at Washington University in St Louis studying physical therapy! I graduate in May and can't wait to be done wit ...read more
Mission Statement:
One day your life will flash before your eyes. Make sure it's worth watching.
Bucket List Item Information
Walk on a glacier

Completed on 08/29/2010
"Stepped onto a glacier but didn't actually walk on it!"

Add This To Your Bucket List
Story And Details
Stepped onto Exit Glacier on our weekend hike at Exit Glacier and the Harding Icefield!
Who Witnessed This Event/Item
Who Else Has This On Their Bucket List
Similiar Bucket List Ideas
Visit the Franz Josef Glacier in South Island - 03/15/14 (Steve Morris)
✔Run walk 50 miles in one month - 01/21/19 (j nadonza)
Walk across the mackinac bridge - 03/21/15 (Autumn VanBuren)
Visit Glacier Bay - 03/12/14 (Steve Morris)
Walk the great wall of china - (32) people
Learn how to: Walk on My Hands - 02/26/14 (Steve Morris)
Wing Walk - 12/11/11 (Nicole Chapman)
✔Walk / Run A Overnight Marathon - 12/15/13 (Lance Garbutt)
Visit a Graveyard and Walk Alone for at least an Hour...At Night - 02/28/14 (Steve Morris)
Valley of the Ten Peaks (Glacier National Park, Montana) - 01/31/16 (Susan F)