K M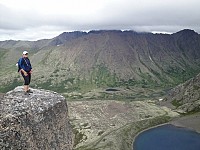 About K:
I am a 24 year old in graduate school at Washington University in St Louis studying physical therapy! I graduate in May and can't wait to be done wit ...read more
Mission Statement:
One day your life will flash before your eyes. Make sure it's worth watching.
Bucket List Item Information
Go fishing on the ocean

Completed on 07/24/2010
"Out of Homer, AK with Rebound!"

Add This To Your Bucket List
Story And Details
We went halibut fishing on a fishing charter called the "Nauti Lady" out of Homer. Went with all of the Rebound staff. We went 4 hours out in the ocean and fished in the rain and rough seas. We caught 30 halibut between the 16 of us. We also caught a lot of cod (which were wormy and we threw back), a couple of skates (like a sting ray), a "mother in law" (a really ugly fish), and I caught a shark!
Photos
Picture out of the back of the boat as we went out to sea!
added on 09/25/10 11:42 am
Who Witnessed This Event/Item
Who Else Has This On Their Bucket List
Similiar Bucket List Ideas
Sports - Go deep sea fishing - 08/10/11 (Carroll VerSteeg)
Watch newborn sea turtles make their way to the ocean - 10/13/12 (Johnny Gonzales)
Skinny dip in the ocean at midnight - 09/30/11 (Courtney Newell)
scuba dive in the ocean - (2) people
✔38 To swim in the ocean - 12/13/10 (Tyler Carver)
Great Ocean Road Marathon - 02/15/14 (Lance Garbutt)
Swim in the Arctic Ocean - 08/11/10 (Nicholas Todd)
Swim in the ocean - (6) people
Go Horseback Riding on the Ocean - (2) people
Stand in the Pacific Ocean - 03/17/15 (Deana Littlebear)