K M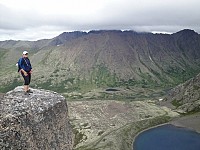 About K:
I am a 24 year old in graduate school at Washington University in St Louis studying physical therapy! I graduate in May and can't wait to be done wit ...read more
Mission Statement:
One day your life will flash before your eyes. Make sure it's worth watching.
Bucket List Item Information
7 Wonders of the Modern World: Golden Gate Bridge

Completed on 07/19/2009

Add This To Your Bucket List
Story And Details
Also saw the Golden Gate Bridge on our roadtrip to my friend Brittany's wedding with my mom! A friend, Dorothy from PT school took us on a tour of San Francisco!
Who Witnessed This Event/Item
Who Else Has This On Their Bucket List
Similiar Bucket List Ideas
Visit the World's Largest Toy Store - 03/21/14 (Steve Morris)
Watch bats fly out from under the Ann W. Richards Congress Avenue Bridge (Austin, Texas) - 01/02/16 (Susan F)
See 10 National (or world) land marks - 02/22/15 (o f)
See 5 of the world's biggest items - 07/08/14 (Marsha Roberts)
Eat food from around the world: Swiss Cheese in Switzerland - 01/31/14 (Steve Morris)
Visit the tallest building in the world in Dubai - 07/30/10 (AH & LW)
Go to Sea world - (8) people
48. see the golden gate bridge - 10/10/10 (Mazzi wheatley)
Navigating The World's Highest Climbing Wall (Nicknamed The "French Fry") - 12/18/13 (Lance Garbutt)
1. See all 7 Wonders of the World - 01/25/13 (Tam Truc Nguyen)